Additional Information for Parents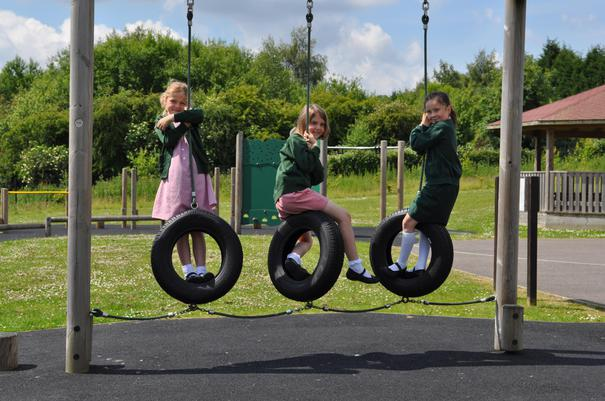 TATSFIELD PRIMARY SCHOOL
Ship Hill, Tatsfield
Westerham
Kent
TN16 2AH
tel: 01959 577356
fax: 01959 576179
e-mail: school@tatsfield.surrey.sch.uk
www.tatsfield.surrey.sch.uk
Aim High, Achieve More
We are pleased to welcome you to Tatsfield Primary School. We hope that this booklet will give you an insight into the educational opportunities we provide for your child. As you read on you will find useful information, our views on discipline, social and emotional development and our commitment to educational excellence. Further information can be found on our website www.tatsfield.surrey.sch.uk.
You will also learn of the importance we place on a positive partnership with parents and the local community and how we strongly believe that together we can
Aim High, Achieve More
Tatsfield Primary School
Vision Statement
Children, staff and parents working actively in partnership to enable all children to realise their full potential
We aim to help our children to:
develop into happy and confident individuals with a secure foundation in learning that will last throughout their lives
appreciate and understand moral and religious beliefs and develop a respectful attitude for the views of others
develop enquiring minds, be confident to ask questions and take risks with a desire to achieve
be independent learners and thinkers who are able to seek solutions creatively and co-operatively
be caring, resilient and responsible individuals
We try to do this by providing:
a happy, safe school environment where children can learn in confidence
opportunities to participate actively in a relevant, challenging curriculum that evolves to meet the needs of all
an environment that promotes the highest possible standards
opportunities to work with other children and adults building co-operation and developing social skills
continuous professional development for all staff which ensures the highest quality of learning and teaching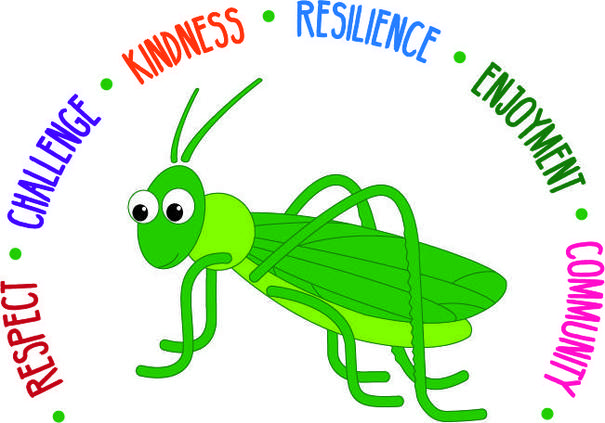 Aim High, Achieve More
Tatsfield Primary School is an academy school and part of the Tandridge Learning Multi Academy Trust. It is situated in the village of Tatsfield, surrounded by pleasant open countryside. The School, whose history dates back to 1848, moved to its new location in April 2010 and values and fosters its close links with the local community. The school has spacious grounds and gardens with play areas, a large sports playing field and use of two Multi-Use games areas.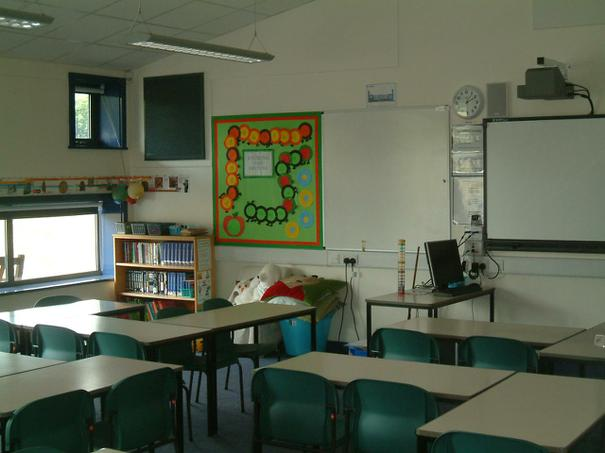 The school has seven classrooms, two group rooms, a practical room and a large sports hall. There is a well-resourced library, administrative offices and community room. The school is wireless networked and classrooms are equipped with interactive screens.
The school is heated by a ground source heating system and all classrooms have a passive vent ventilation system. The school also has a sedum roof.
EDUCATION AT TATSFIELD PRIMARY SCHOOL
Teachers at Tatsfield Primary School are concerned for the all round development of each child. By nurturing the intellectual, spiritual, moral, cultural, social and emotional parts of every child we aim to help each individual to grow in knowledge, understanding, tolerance, respect for others and in their own self esteem.
We take each child from where they are, whatever the age, ability or aptitude, and encourage them to achieve the best that they can. Sensitive and appropriate forms of assessment are integral to our knowledge of children's needs, as is an understanding of how they learn.
We believe in offering a broad and balanced curriculum with an emphasis on sound English and Math skills. The knowledge and skills each child will gain will, we hope, sustain a lifelong desire for learning.
We encourage children to be active, independent and co-operative learners, who will take increasing responsibility for what they do. We encourage them to take pride in producing their best work.
Through careful planning we provide opportunities for children to learn through a variety of experiences. We aim to create and sustain a happy, secure and caring environment that is both attractive and stimulating.
Parents, governors and the wider community are all involved in the education of the child. We believe that a partnership based on mutual understanding, shared interests and purposes is vital to every child's progress.
Tatsfield School is an academy village school, part of the Tandridge Learning Trust, working to serve the local community.
We hope that you will want to work with us in order to give your child a high quality education.
Progress and Achievement
We are committed to every child achieving her/his full potential. Parents are invited to discuss their child's progress and targets with the teacher at regular intervals. In addition parents can make an appointment at any time to discuss any concerns.
Achievement is assessed as a continual process using a variety of methods. This takes the form of teacher assessment, formal yearly assessments, and local and national standardised tests.
Assessment is crucial to the planning of every child's progress.
Discipline
Good behaviour is a necessary condition for good teaching and learning.
We aim for the minimum number of rules that will ensure efficient learning and safety. These include developing the ability to work quietly and move about the school in a safe manner.
Good behaviour is based on care and consideration for others. We believe that good discipline is essential for our school to maintain a happy, purposeful working atmosphere. Rewards are made accordingly and are integrated into our main methods of working. Sanctions are used when necessary.
Our Home School Agreement forms the basis of our partnership with parents and supports our view that education and discipline is a shared responsibility. We expect all members of our school community to support the agreement. Should a child's behaviour deteriorate, parents will be asked to come into school to discuss any problems with the Headteacher.
A concern in all schools is "bullying". Bullying of any kind, including prejudice related comments, is not tolerated in our school. Every effort is made to ensure it does not happen at Tatsfield School but if the problem should occur please discuss your worries with the Headteacher without delay.
Equal Opportunities
Tatsfield Primary School is committed to providing education which offers equality of opportunity and is free from discrimination on the grounds of race, gender, background or ability. In order to prepare pupils for the society in which they live, the school seeks to transmit cultural values and encourage the questioning of existing values and attitudes.
Special Educational Needs and Disabilities
Children's individual needs are identified and progress is monitored by the class teacher in consultation with the Special Educational Needs Co-ordinator and the Headteacher. Parents are involved in this process at the earliest opportunity.
Special curricular and other arrangements are made to meet the requirements of children with special educational needs within the guidelines of the Code of Practice (2014).
Children who are very able or who have a special talent may require special programmes of study and we have groups to provide extension work for these very able pupils.
Inclusion
We aim to increase the participation of all students in the life of the school by providing an inclusive culture with policies, practices and checks that respond to the diversity of pupils in our school.
Child Protection
The School has a duty and is committed to safeguarding the children in their care. We have a Safeguarding Policy and Procedures in place which is in accordance with LA guidance and locally agreed inter-agency procedures. The policy is made available to parents on request. All staff are trained to understand the school's policy and procedures. The Designated Safeguarding Lead is Mr Kevin Bellinger. The Deputy Designated Safeguarding Leads are Mrs Louise Knock and Mrs Kim Colegate. The Governor responsible for Safeguarding is Mrs Jill Hancock.
School Uniform
The School uniform colours are bottle green and scarlet red. Most items are available from chain stores. Red and white check shirts and blouses, school sweatshirts, cardigans, fleeces and T-shirts are available from the School Office. The PTA hold a sale of nearly-new uniform once a term.
Boys Uniform:
Bottle green V-neck pullover/cardigan or sweatshirt with school logo
Red and white check shirt (not 'T' shirt or polo shirt)
Plain grey long/short trousers
Grey socks
Black shoes (no trainers, boots or canvas shoes)
Girls Uniform:
Bottle green V-neck pullover/cardigan or sweatshirt with school logo
Red and white check blouse (not 'T' shirt or polo shirt)
Bottle green tunic/skirt (pleated, gathered or A-line - not straight or slit)
Plain grey long/short trousers
Red and white check dress in summer
White socks
Bottle green socks or tights in winter
Black shoes flat heeled - no higher than 2cm - (no trainers, boots or canvas shoes)
Bottle green fleece for outdoor use only.
Bottle green or red waterproof/fleece lined outdoor coats with school logo are available to be ordered from the school office.
Book bags for reading books are available from the School Office.
P.E. Red T-Shirt with school logo,
Black shorts White socks
Key Stage 1 children – Plimsolls (black, elasticated or Velcro)
Key Stage 2 children may wear trainers for outdoor P.E.
Tracksuit (plain black – no logo or markings)
Kit Bag (with School logo, available from school office)
Swimming (Year 4)
Swimsuit/trunks and towel
Swimming hat and waterproof bag
Water Bottles
Children should bring to school a named water bottle.
The Curriculum
All children from 5 years to 16 years in state schools in Britain study a common curriculum called the National Curriculum. The statutory subjects that all pupils must study are English, Mathematics, Science, Computing, Design Technology, History, Geography, Music, Personal, Social and Health Education, Art and Design, Physical Activity and a Foreign Language. The curriculum also includes Religious Education. Further information on our curriculum can be viewed on the school website www.tatsfield.surrey.sch.uk.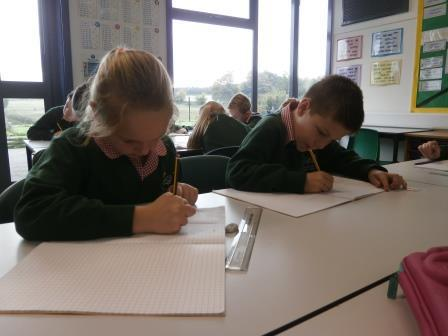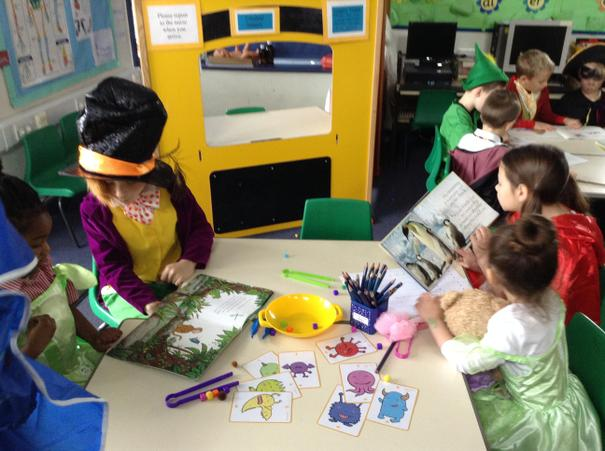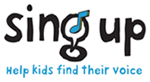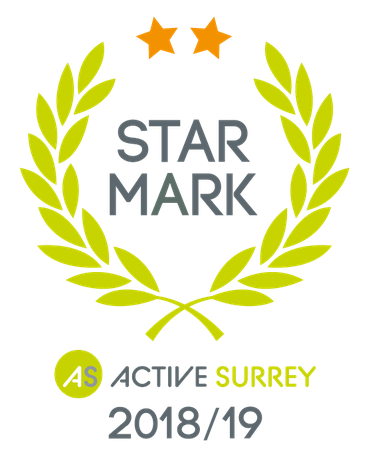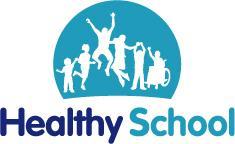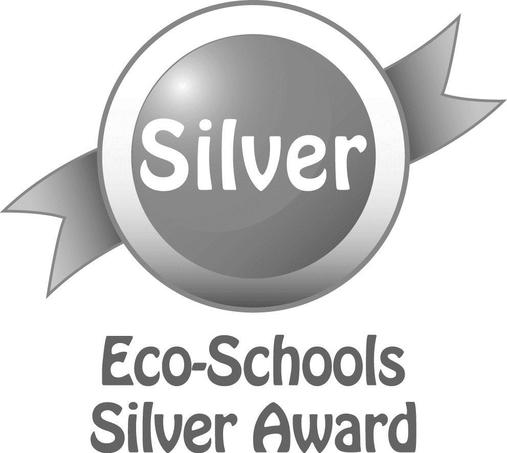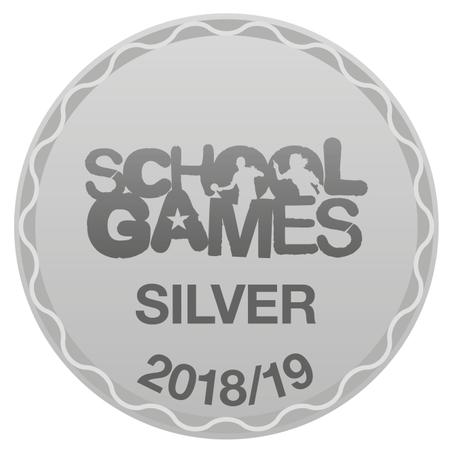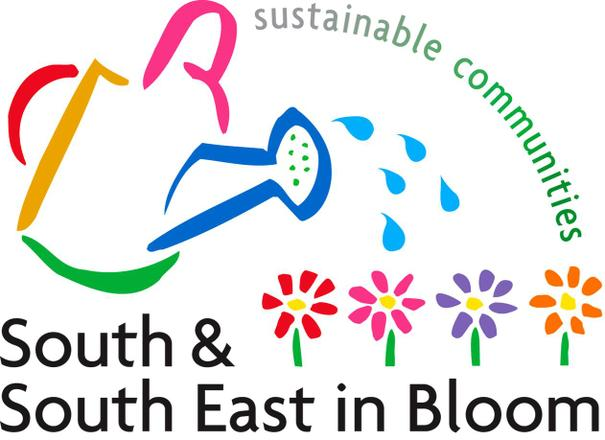 Music
Our school has an excellent reputation in Music. All children take part in musical activities. The school also provides opportunities for the children to participate in choir and orchestra. All children in Year 4 learn to play the Violin.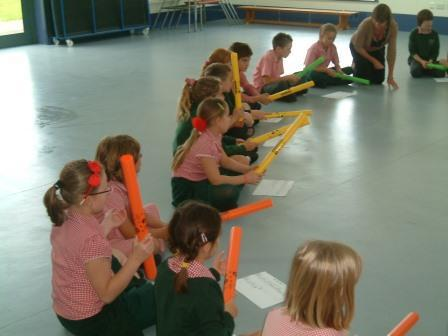 Peripatetic teachers come into school to teach piano, woodwind, string and percussion instruments. Arrangements can be made for instrumental lessons through the Surrey Youth Music and Performing Arts.
Further details are available from the School office.
Key Stage 2 production of 'Pantastic'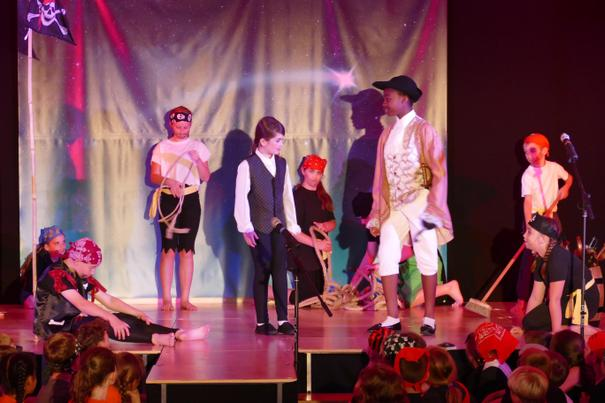 Physical Activity
Physical Activity is an essential part of the development of the whole child. We aim to develop co-ordination, balance, strength, stamina, creative thinking, expression, movement vocabulary and spatial awareness through dance and gymnastics. In games the children learn the need for co-operation and teamwork.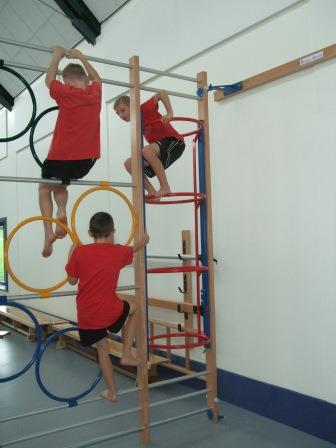 Swimming is taught to children in Year 4 who have swimming lessons at a local pool.
From Year 3 children develop their own athletic skills in both track and field events.
Children must have the correct kit at school for all their lessons.
Religious Education
Children at Tatsfield School are encouraged to understand and respect the traditions and beliefs of Christianity and their significance for our culture and moral values. Pupils should understand and respect the major aspects of other world faiths, Islam, Judaism, Hinduism and their religious practices. We aim to develop an understanding of the contribution of religion to morality and to personal and social relationships and responsibilities through the Agreed Syllabus for Surrey.
Parents have the right to withdraw their children from religious education and collective acts of worship either in full or in part. Alternative provision can be arranged for pupils who are withdrawn from Religious Education.
Relationships and Sex Education
Relationships and Sex Education is part of the School curriculum and follows the guidelines set out by Surrey County Council. These put Sex Education within the framework of personal development and relationships.
Initially topics may include human and animal families, friendships, sharing, cooperation, appropriate behaviour and parts and functions of the body. The content for older children includes relationships, family roles, the right to say no and self-awareness.
Parents have the right to withdraw their child from all or part of our sex education programme.
Personal Social and Health Education (PSHE)
The school has a comprehensive personal and social education programme which is taught in its own right and is linked to other areas of the curriculum. All children learn strategies for promoting positive emotional health and well-being and for developing into caring, responsible young citizens.
Extra-Curricular Activities
These are organised during lunch hours and after school by the staff and outside organisations, over the last year these include; orchestra, choir, athletics, gymnastics, football, hockey, Kwik Cricket, dance, board games, construction, rounders, running, drama, 'wacky' science and gardening. Once a commitment has been made, children are expected to attend regularly.
Educational Visits
Both Key Stage 1 and 2 children visit places of interest to extend and enrich their curriculum studies. A residential visit is organised every year for children in Years 4, 5 and 6.
The Education Act 1988 states that all education must be provided free to all parents but parents may voluntarily offer financial assistance. In reality, the cost of educational visits cannot be met from school budgets and, therefore, if parents were not prepared to volunteer to pay for their own child's educational visit, then unfortunately school visits would cease. In order to comply with the law, we hope parents will agree to donate the cost of these visits on a voluntary basis.
In circumstances where parents would have difficulty in financing a visit, we would be pleased to give assistance.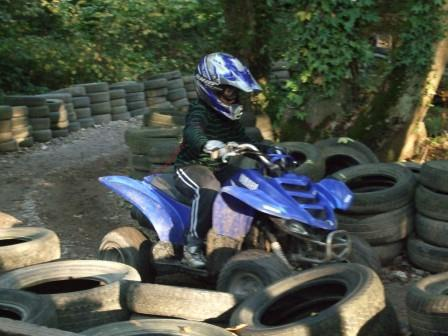 Year 6 Isle of Wight Residential Visit
Homework
Homework is another important aspect of our working partnership with parents. Working at home helps to develop a child's self discipline and her/his self motivating attitude to study whilst reinforcing skills learned in the classroom. We consider it important that set tasks are purposeful and appropriate to the needs of the children.
An information booklet is given to parents at the start of every year covering a range of homework tasks and suggesting the amount of time to be spent. This will vary depending on the ages and ability of the individual child.
We value parents' support in helping with homework by ensuring it is completed on time and that it is done well.
The School Day
The school day begins just before 8.45am when a whistle is blown. Children should come into their classrooms quietly from 8.45am onwards when their teacher will be ready to receive them. They must be in the classroom by 8.55am when the register is taken or they will be marked as late. The first lesson starts at 8.55am. If we are not advised of a reason for absence by 9.30am, your child(ren) will be marked as having an unauthorised absence.
Key Stage 1 – Years R, 1 and 2
Morning 8.45am - 12noon
Afternoon 1.10pm - 3.00pm
Total weekly teaching time (excluding registration, playtime, assembly, lunchtime) – 21 hours 15 minutes
Key Stage 2 – Years 3, 4, 5 and 6
Morning 8.45am - 12.10pm
Afternoon 1.10pm - 3.10pm
Total weekly teaching time (excluding registration, playtime, assembly, lunchtime) – 23 hours 45 minutes
School Meals
School Meals are cooked on the premises and a choice of menu is available including a vegetarian option. Fresh fruit and salad are regularly offered.
School Meals are free to all Infant children. Meals for Key Stage 2 children can be paid for weekly, half-termly or termly and paid for on-line. Alternatively cheques should be made payable to Surrey County Council.
Current prices and menus are available from the School Office as is advice about free school meals.
Packed lunches should be brought in a clearly named container.
Health and Welfare
The welfare and safety of your child is a major concern. We will always contact you if there is any emergency concerning your child. If we are unable to contact you we will act in the best interest of the child unless other instructions have been given in writing. Always inform the school about any serious medical conditions your child may have and any change in the emergency contact. Parents are responsible for checking that their children's medication is in date.
Absences
We are always concerned for the well-being of the children. It is important that, in the case of a child's absence from school, we should be notified on the first day of absence before 9.15 am, and every day thereafter. On returning to school, children must bring a letter confirming the reason for the absence. Requests for medical care or dental appointments during school hours should be made IN WRITING TWO DAYS IN ADVANCE with a copy of the appointment card / letter.
Authorised Absences
Important family gatherings such as funerals etc will normally be authorised. Sickness, authorised educational activities such as field trips and residential visits, treatment, exclusion and religious observation will also usually be authorised but parents will be required to ask in writing for leave of absence. However when, following investigation, the Headteacher does not believe an absence to be legitimate, it will be unauthorised.
Term time holidays
The school holiday dates are published a year in advance and we strongly advise parents/carers to book their family holidays during the school holidays.
Amendments to the 2006 regulations in 2013 removed references to family holiday and extended leave as well as the statutory threshold of ten school days. The amendments make it clear that headteachers may not grant any leave of absence during term time unless there are exceptional circumstances. The Headteacher will determine the number of school days a child can be away from school if the leave is granted.
The Headteacher will decide whether or not to authorise the absence having considered:
the reason for the request
the child's record of attendance
the amount of absence already authorised
the time of the absence that it would not prevent the child from missing any important examinations/assessments
Fixed penalty notices may be issued by the Local Authority to parents who fail to ensure their children's regular attendance, for reasons other than ill health, at school.
Admissions
The Governors are the admission authority for the school.
To find up to date information about the school's admission arrangements and details on how to apply, either as part of the normal intake or during the school year, please see the Surrey County Council website or visit the admissions page of the school website.
Pre-School Liaison
There is friendly liaison between the School and local pre-school groups in Tatsfield, Biggin Hill and other areas. Our Reception Teacher visits most children in pre-school settings before they start school.
Transfer to Secondary Education
At 11 years of age our children transfer to Secondary School. At the appropriate time parents will receive all relevant details regarding the transfer process. We have close links with our local Secondary Schools and there is careful liaison to ensure a smooth transition from one phase to another.
Partnership with Parents
Parents are always welcome at the school to discuss any concerns they may have about their child's progress, happiness and welfare. Appointments to see the class teacher should be made for a mutually convenient time and appointments to see the Headteacher should be made through the Secretary.
Parents also receive newsletters and further information on a regular basis. In addition we have workshops and education evenings to inform parents of important issues and educational developments.
Parents are invited to special assemblies, Christmas Concerts, Sports Days and many other similar activities.
We encourage parents to come into school and help in a variety of ways, including cooking, paired reading and accompanying classes on educational visits. All voluntary helpers have Disclosure and Barring Service clearance.
The Parent-Teacher Association
Parents of children at Tatsfield School are automatically members of the Tatsfield School Parent-Teachers Association. The aims of the Association are to promote a partnership between the child's home and the School. They participate in and support events and activities which help to extend facilities and advance the children's education.
We have a thriving PTA that organises events throughout the year to raise money to provide additional resources for the School. It has enabled the School to purchase additional computers, library books and other classroom equipment as well as large play equipment for the playground.
In addition the PTA provides a full social calendar for the children and their families.
Governing Body
The Local Governing Body in association with the Tandridge Learning Trust controls the management of the school within its delegated budget. The Governing Body consists of the Headteacher, one member of staff, two parent governors and seven co-opted members.
The Governing Body meets at least once each half term to discuss progress, achievements and all aspects of school management.
All Governors serve on committees which cover Resources and Children and Learning. These committees serve to assist the Governing Body to carry out its duties.
School Fund
The school asks for an annual donation of £30.00 per child to School Fund. This can be paid in full in September or in two instalments of £15.00.
Statutory Information
Upon request, parents may obtain any statutory information including published OFSTED reports, policies, schemes of work, etc.