SEND 14
Please see below for SEND policy - This must be read in conjunction with our policies page, see below:
Tatsfield Primary School
SEND Information Report
September 2021
Special Educational Needs Coordinator (SENCo): Mrs Helen Rutter
Email: senco@tatsfieldtlt.co.uk
Dedicated SEN time: Wednesdays and Fridays
SEND Governor: Mrs Pamela Holden
Local Offer Contribution: Tatsfield Primary School's Local Offer SEND 14
DEFINITION OF SEND
At Tatsfield Primary School we use the definition for SEN and for disability from the SEND Code of Practice (2014).
This states:
SEN: A child or young person has special educational needs if he or she has a learning difficulty or disability which calls for special educational provision to be made for him or her. A learning difficulty or disability is a significantly greater difficulty in learning than the majority of others of the same age. Special educational provision means educational or training provision that is additional to, or different from, that made generally for others of the same age in mainstream setting in England.
Disability: Many children and young people who have SEN may have a disability under the Equality Act 2010 – that is '…a physical or mental impairment which has a long-term and substantial adverse effect on their ability to carry out normal day-to-day activities'.
SEND NEEDS
Children and young people's SEND are generally thought of in the following four broad areas of need and support:
Communication and interaction
Cognition and learning
Social, emotional and mental health
Sensory and/or physical needs
(Reference: Tatsfield Primary School SEN Waves of Provision)
How are Children with Special Educational Needs Identified?
When children have a Special Educational Need or Disability (SEND) before they start our school, we work with the people who already know them and use the information already available to identify what their needs will be in our school setting. We talk to their parents and we meet the children where possible to get a full picture about how best to support them.
If you are worried about your child, please discuss your concerns with your child's class teacher, by asking for a meeting with them. The class teacher may then speak with the SENCo (Mrs Helen Rutter)/Learning Mentor (Mrs Jo-Ann Cargan) to seek further advice. You may also request a meeting with the SENCo or Learning Mentor.
Through ongoing teacher assessments and more formal end of term assessments we track the progress of all our pupils. Class teachers meet with the SENCo to discuss any concerns they have. Members of the Senior Leadership team regularly review assessment data and all staff use data to support tracking.
If a teacher is concerned they will discuss the issues with you and implement ways of working together to support your child.
Where a child continues to make little or no progress, despite support matched to the child's need, Special Educational Needs support is then put in place.
Difficulties with social and emotional wellbeing may also trigger a need for additional support
Consulting with children, young people and their parents
We have an open door policy and if you have any concerns regarding your child's progress or well‐being, then please speak to either your child's class teacher or SENCo (Mrs Helen Rutter) to discuss your concerns. We hold yearly coffee mornings for parents/carers of children with SEND.
Class teachers produce an annual written report for all children in their classes in the summer term and encourage parents to make an appointment to discuss their child's progress with them. We also have two other parent consultation evenings each year, one in the autumn term and one in the spring term.
Children with special educational needs have their Individual Provision Maps reviewed termly by the class teacher/special educational needs co-ordinator and other staff members who are involved with the targets. These are shared with parents and children termly and they are both encouraged to take an active role in this process. This might involve discussing their own/their child's progress, the targets and interventions and ways they can work on/support their child at home.
We are happy to share suggestions about ways families can support learning at home. Children in all classes have regular homework to complete. Curriculum information is shared though an annual curriculum evening for each year group and through our newsletter and website. We believe in supporting the development of parents and we hold learning events to help families understand ways that they can support their child at home. In previous years we have held a maths workshop, a reading workshop and a managing behaviour workshop. We use Mathletics/Sumdog to support our children's mathematical progress and Lexia Core 5 to support Literacy progress which are online programmes that can be accessed at home.
Assessment, Planning & Review
Termly meetings are held to look at the progress of all children and to identify needs which may be affecting their ability to engage with the learning process. Following discussion with key staff, the child and parent/carer, a plan for additional support and expected outcomes is put in place. This will be in the form of recorded targets and actions to help to overcome any difficulties and take into account strengths as well as difficulties. It will identify ways in which a child may be supported both at home and school. The identified provision will be carried out by a Teacher or trained Teaching Assistant until the next review. In some cases, it may be necessary to increase or change the nature and level of support to help the child's progress. This may involve seeking the help and advice from a range of specialist agencies such as the Educational Psychologist (EP), Specialist Teaching team (STIPS), Occupational Therapy (OT), Child and Adolescent Mental Health Service (CAMHS), Physical and Sensory service (PSS), Outreach service or Speech and Language Service (SALT). A referral for support for an outside agency will only be made with parent/carers consent. The impact of intervention will be regularly assessed and the additional support plan and targets will be reviewed.
We review the needs of our learners within the school and endeavour to put in place provisions in order to be able to cater for these needs. The SENCo/Headteacher carries out learning walks which include reviewing how provision is delivered and helps in maintaining standards through rigorous quality assurance.
Our provision management tool also looks at the impact each intervention has had on the progress of each learner. Decisions are made as to whether specific interventions are proving to be effective both in terms of the time spent on them and the finance used in providing the intervention.
We regularly review the needs of the whole cohort to see if there is a change in the overall make-up of the school.
Decisions are then made as to whether any additional interventions need to be put in place. We have completed The Easel (Everyone a Successful and Effective Learner) Project. It is an 11 week programme of targeted support to encourage early identification of any potential barriers to learning and to address these difficulties effectively and efficiently in Reception and Year 1. We have also completed the MIND UP programme which teaches the skills and knowledge children need to regulate their stress and emotion, form positive relationships, and act with kindness and compassion.
How can the school help my child with transition?
Some children with SEND can become particularly anxious about transition. As a school we try to make this as stress free as possible for both you and your child. Before starting our school, a meeting is held with the current provision, frequently a pre-school, for children who have additional needs. Transition photo books are frequently made, involving pictures of the staff at the old and new school so that the child feels less anxious about the impending change. Extra visits are also available outside of the introduction mornings. When moving between classes a transition meeting will take place between the current teacher and the new teacher. If appropriate there will be opportunities for your child to visit the new class and meet key staff.
When moving to secondary school the Year 6 teacher and SENCO will liaise with all of the receiving schools, regarding any child with additional needs to highlight information and targets and to enable an awareness of the child's strengths and difficulties. Parents/carers can voice their concerns to be shared in the meeting. Successful arrangements and interventions currently used to support your child can be shared with the receiving school. Our Learning Mentor runs a transition group that discusses any concerns that the children might have and additional visits to the new setting may be planned to help your child become familiar with the setting and to reduce any anxieties. The Learning Mentor is often able to attend these visits with them. We use the Smart Moves Programme from The Eikon Charity, which helps pupils develop life long resilience which helps to address some common anxieties when transitioning from year 6 to year 7. Last year we offered parents a webinar run by Eikon on supporting your child with the transition to secondary school.
Whole School Approach
At Tatsfield Primary School we offer high Quality First teaching. Additional interventions are defined through our annual dialogue across the school contributing to our provision management approach. These documents help us to regularly review and record what we offer EVERY child or young person in our care and what we offer additionally. These discussions also serve to embed our high expectations among staff about quality first teaching and the application of a differentiated and personalised approach to teaching and learning. We make it a point to discuss aspirations with ALL our learners.
Differentiation is embedded in our curriculum and practice. All our teachers are clear on the expectations of high quality classroom teaching and this is monitored regularly by the leadership team. Children are assessed regularly and lessons are taught in a way that allows all children to access the curriculum and to progress with their learning. This could be through variation in lesson content and tasks or through the resources being used to support the children's learning.
If there are concerns that a child might not be able to access a part of the curriculum this will be discussed in a meeting with parents, class teacher, Special Educational Needs Co-ordinator and Head teacher.
All teachers are responsible for every child in their care, including those with special educational needs.
Support for children with Special Educational Needs and/or disabilities
If a learner is identified as having SEND, we will provide support that is 'additional to' or 'different from' the differentiated approaches and learning arrangements normally provided as part of high quality, personalised teaching' intended to overcome the barrier to their learning. This support is set out in the school's whole school Provision Map
Four types of action are taken to ensure effective support. The following cycle will be used to provide your child with additional support: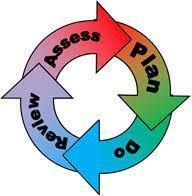 What type of support can the school offer to support my child?
Tatsfield Primary School adopts a graduated approach to meeting needs, through quality first teaching. Our staff make reasonable adjustments to help all children not just those with SEND. The teacher, with the support of the SENCo, will plan carefully to meet additional needs within the class. Strategies will be deployed to meet these needs, ensuring that every child has equality of opportunity. Trained teaching assistants support learning throughout the school, with the guidance of the teacher/SENCO. Subject specific language is taught to enable children who have language or processing difficulties to access the curriculum. A range of focussed intervention is available throughout the day, both for learning and social difficulties. We have an open door policy and there will always be somebody available to listen to the concerns of both parents/carers and children. Our Learning Mentor Mrs Jo-Ann Cargan is available for children and parents/carers to discuss emotional matters such as bereavement, separation, divorce etc. She is contactable through the school office.
Expertise and training of staff
Our Special Needs Co-ordinator (SENCo) is an experienced qualified teacher, with special educational needs experience and has been awarded the National SENCo Award. All members of staff receive regular training opportunities relating to the needs of the children at our school. We encourage staff to continually update their skills and knowledge.
Our teaching assistants tend to specialise in particular areas. We have staff members who are trained in areas of:
Speech development (ELKLAN)
Autism/ADHD
Literacy –Early Literacy Support, Phonics, how to support dyslexia
Maths – success@arithmetic, Numicon
Fine and gross motor skills
Emotional and social skills development - Learning Mentor
Considerable thought, planning and preparation goes into utilising our support staff to ensure that children achieve their best outcomes, gain independence and are prepared for adulthood from the earliest possible age.
Assessing the impact of intervention
The interventions used will be those that are proven to make a difference for most learners. Where appropriate a baseline assessment will take place at the beginning of an intervention – this will provide the point of reference for measuring progress made by a child – and a target outcome set. Regular reviews will take place to ensure that the intervention is having the intended effect. Should progress be less than anticipated, consideration will be given to adapting the frequency or intensity. Termly reviews will involve children and their parents or carers as well as the class teacher and a record kept of agreed actions.
Where difficulties persist despite high quality interventions and appropriate adjustments, advice and support may be requested from other professionals, with the parent's consent. This might involve Speech and Language Therapy services, Occupational Therapy, Physiotherapy, an Educational Psychologist or health services such as Paediatrics or CAMHS.
Where a child has an EHC plan or a Statement of SEN an Annual Review will be held taking into account the views of the child, their parent or carer, and all other professionals involved with the child.
How will my child be included in activities outside the classroom including school trips?
Our Inclusion Policy promotes involvement of all our pupils in all aspects of the curriculum, including activities outside the classroom such as school trips and clubs.
Where there are concerns of safety and access, further thought and consideration is put in place to ensure needs are met; where applicable parents/carers are consulted and involved in planning/risk assessing.
What support will there be for my child's overall well-being?
The wellbeing of every child is a key priority for our school. We provide a high standard of pastoral support. We have a trained Learning Mentor, Mrs Jo-Ann Cargan, who works with children and families, supporting them through difficult times in their lives such as friendship issues, bereavement, separation or divorce. Referral to the Learning Mentor can be via the class teacher, SENCo (Mrs Helen Rutter) or directly from the family. Staff have completed Emotional Wellbeing, Attachment and Mental Health training from TAMHs (Targeted Approach to Mental Health in Schools) and MindUp training. A programme which is embedded in the school.
We have clear systems in place to deal with bullying. Our Behaviour Policy Tatsfield Primary School September 2021 which includes guidance on expectations, rewards and sanctions is fully understood and in place by all staff.
All staff receive regular first aid training. We have a designated First Aider Mrs Ellis, on site and relevant staff are trained to support medical needs. We have a Pupils Health and Administration of Medicines policy in place. We also have a separate first aid room, with a bed, which is off of the main reception area, with access to a disabled toilet and shower.
We regularly monitor attendance and take the necessary actions to prevent prolonged unauthorised absence.
We have a school council with child representatives from each class, who have opportunities to discuss issues central to them. We understand that lunchtimes can be a daunting time for some children. We train our lunchtime staff to support games and some of our Year 6 children are 'playleaders' for the younger classes. Our year 6 children are given a buddy from the reception class. We have a Bus stop and Buddy Bench system to support children who are trying to find someone to play with. Our Personal, Social, Health and Emotions (PSHE) progamme SEAL (Social and emotional aspects of learning) also looks to develop emotional and social development.
What specialist support can the school access to support my child?
The school works with a number of specialist agencies to seek advice and support to ensure that the needs of all children are fully understood and met. These include:
Specialist Teachers for Inclusive Practice (STIPS)
Child and Adolescent Mental Health Service (CAMHS)
Targeted Mental Health in Schools (TaMHs)
Children's Centres
Community Paediatrician
Education Inclusion Officer (EIO)
Educational Psychologist (EP)
Occupational Therapy (OT)
Physical and Sensory service (PSS)
Surrey Parent Partnership
Social Care
Linden Bridge Outreach Support
Speech and Language Therapy (SALT)
Surrey Young carers
A full range of the support available can be found in the Surrey Local Offer for pupils with SENDhttps://www.surreylocaloffer.org.uk/kb5/surrey/localoffer/home.page. Tatsfield Primary School works with the Local Authority and the provision within the school supports the Local Offer from Surrey. Whole School Provision
We have a particular duty in ensuring that Looked After Children (LAC) are given the appropriate support and care to help support with their progress and engagement within the learning environment.
Our designated teacher Mr Kevin Bellinger meets with social services and the virtual school to ensure the child's wider needs are being met. A Personal Education Plan (PEP) is produced termly to help support the child.
Complaints
In the first instance if a parent has a concern they are encouraged to speak to the class teacher. If the matter cannot be resolved at this stage then a meeting with the SENCo (Mrs Helen Rutter) can be arranged to discuss the nature of the complaint and to find a way to resolve the situation. If matters are still unresolved parents should speak to the Head teacher. A copy of our complaints procedure can be obtained at the school office. The complaints procedure will outline the formal steps the school will take in handling each complaint.
Where a resolution between the parent and school cannot be reached then parents will be advised to seek external support through Surrey Parent Partnership now known as Surrey Special Educational Needs and Disabilities Information and Advice Support Service (SENDIASS).
Relevant school policies underpinning this SEN Information Report include
Teaching and Learning Policy
Inclusion Policy
Behaviour Policy Tatsfield Primary School September 2021
Tatsfield Primary School Pupil Premium
Anti-Bullying Policy Tatsfield Surrey Policy September 2021
Equality Policy
Health and Administration of Medicines Policy
Legislative Acts taken into account when compiling this report include
Children & Families Act 2014
Equality Act 2010
Mental Capacity Act 2005
Date presented to/approved by Local Governing Committee: September 2021