EYFS Curriculum
WELCOME TO WREN CLASS
AIM HIGH, ACHIEVE MORE
Early Years Foundation Stage Framework 2021
The EYFS curriculum is split into Prime and Specific areas. The prime areas are important because they lay the foundations for children's success in all other areas of learning and of life. The specific areas provide the range of experiences and opportunities for children to broaden their knowledge and skills:
The Prime Areas of learning are:
Personal, Social and Emotional Development;
Communication and Language;
Physical Development.
The Specific Areas of learning are:
Literacy;
Mathematics;
Understanding the World;
Expressive Arts and Design.
At the end of the Reception year, pupils are benchmarked against the Early Learning Goals for each area. Attainment is described as either: emerging (working below the expected level) or expected (working at the expected level) and these are reported to parents in the end-of-year written report. This is a change from previous years as, under the new Early Years Foundation framework, exceeding (working above the expected level) has been removed.
Click the links below to find out more information about the EYFS:
Early Learning Goals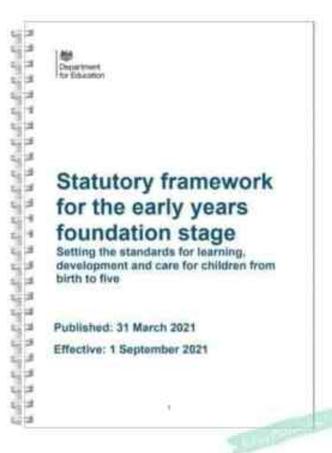 STATUTORY EYFS FRAMEWORK EFFECTIVE FROM SEPTEMBER 2021
NON-STATUTORY CURRICULUM GUIDANCE
Within the Early Years Foundation Stage, children learn through a range of play based opportunities as well as adult led and independently selected activities.
At Tatsfield Primary School, our children experience a range of exciting activities, both indoor and outdoor, that promote the characteristics of effective learning such as independence, self-confidence, determination and communication as well as the ability to think critically and share their thoughts and ideas. These characteristics describe how a child learns and are interconnected with the EYFS Prime and Specific areas of learning.
Our children receive daily whole class teaching sessions along with daily whole class phonics sessions and hand-writing and mental mathematics. The children also work in smaller focus groups to provide both challenge and support where needed. We plan half termly topics that we feel will inspire the children's curiosity, understanding and development. Daily child-initiated activities, indoor and outdoor, combine the children's likes and interests with the current topic and cover all seven main areas of learning.
Our half termly topics include:
Ourselves
Celebrations
Food and Growing
Animals
Fairy tales.
Please take a look at our EYFS Curriculum Map below:
Our first topic is "Ourselves"
We will be learning our new class routines, rules and expectations. The activities will focus on the themes of ourselves, our family and our friends. It is a great opening topic for the year as the children have a sense of ownership and knowledge of these areas and so feel confident to access the learning.
Please see our Curriculum Plan below for Autumn 1:
Please see our Curriculum plan below for Autumn 2: